What do you get that writer pal of yours? Please don't say another coffee mug.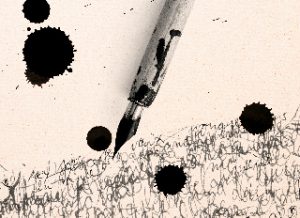 Here are some non-sucky gifts your writer will be sure to enjoy:
Aqua Notes – Writers get ideas in all sorts of locations … including the shower. Give your writer a waterproof note pad so they can jot down those thoughts while showering.
Audible Books – Audio books are great for writers. We can listen in the car or on the subway or at the doctor's office. This is a good option if you're not sure what sort of novels your writer prefers, too, as you can just gift a membership ($14.95 a month).
Board Games – There are several good writing games out there. One of the most popular is Dixit. It's even won an award for board game design. Players have to convince the other players that their story card is the best way to tell the story. Another game thatwould be good for writer's block or for a writing group is Storymatic. "Six trillion stories in one little box – which one will you tell?" There are 540 cards in various categories that you use as prompts for your stories. Once Upon A Time is yet another writing game. The leader plays cards to start the story, and other players jump in with their cards to see who can play all of their cards and win. You can't really go wrong with a good writing board game!
Bookends – There are so many creative bookends out there to choose from. Here are a couple of my favorite ideas. The End … Katanas – you slip a metal plate behind the cover of the end books and the "sword" attaches magnetically. Antique Typewriter bookends are always good.This is fun as well.
Business Cards – What writer wouldn't like a snazzy card that describes their hard work and creativity? Vistaprint is easy and fairly reasonable. They can design whatever they want and get a box of professional cards in the mail within a short time period.
Duotrope – For $5 a month, your writer can access this service, which helps with publication and submissions.
Fountain Pens – Here's an area where you can spend either a little money or a whole lot. A good fountain pen is an essential writing tool, even if you only use it to autograph copies of your book. Many writers, however, enjoy writing longhand, and a good pen is a joy to use. The Pen Addict has a great blog all about the Top 5 Pens, covering examples from under $50 all the way up to $500. 
Healthy Snacks – Instead of junk food, provide your writer with a subscription to Nature Box, which delivers healthy snacks of dried fruit and nuts to your door.
Journals and Diaries – What writer can resist a fine leather-bound journal or diary? Nobody I know of. Here are a few of the many possibilities: This one comes with a bamboo pen, too.  And if you want to spend a bit more money, you can get a journal with reloadable pages!There's even a writer's block journal.
Jewelry – This one is a bit more tricky, but let's assume your writer pal actually wears jewelry. There are plenty of good examples of writing jewelry, both for women and for men. This says "The voices in my head tell me what to write" … perfect, right? Pen cufflinks  Writer's earrings    More cufflinks   If you've got a bit more money, this jewelry box is made to resemble an antique typewriter. And here's a whole page of typewriter-inspired jewelry to stash inside of it.
Kindle Unlimited – You don't need a Kindle to enjoy this service. Your writer can read the books on their phone or iPad or computer as well. You can give a 12-month subscription that includes all sorts of free reading.
Literary Candles – Candles that smell like books!
Litographs – This company makes T-shirts, tote bags, and other items from the text of classic books. And it's not just slapped onto the shirt or scarf, but formed into a design that fits the book. These are unique products any writer would be happy to own.
Magazine Subscriptions – There are several good writing magazines that I know I always pick up at the bookstore. Writer's Digest is one of the foremost, as well as Poets and Writers. You might also try The Writer, or Creative Nonfiction. There's even a  Journal of the Month Club that will send you a surprise literary journal every month (or every few months, depending on how much you want to spend).
Pop Chart Poster – Give your writer a literary poster like The Cocktail Chart of Film & Literature.
Scratch-Off Poster – What's more fun than a scratch-off card? A 2 foot poster with 100 Essential Novels for your writer to scratch off as they read each one, revealing tidbits of information about each novel.
Scribe Delivery – For $29 a month, your writer will receive a randomly-chosen package of journals, notebooks, and pens. That's like a monthly treasure trove for a writer.
Software – this is another area where you can spend a little or a whole lot. Scrivener is one of the ultimate writing programs out there. It lets you write, organize, save your research, and basically does everything except bind the finished product for you. If you're looking for a different type of writing assistance, Freedom is a program that blocks distractions on your computer or iPad. And for the writer who enjoys speaking their tales, Dragon is a voice recognition program that allows you to type without giving your hands a work-out.
Submission Service – have a little more cash? Your writer would love the gift of a submission service like Writer's Relief. They help match your stories to the right market or agent, help you craft query letters, and even help develop strategies for your writing career.
Writing Guidebooks – For this, you'll have to check out the writer's self-help section and make sure you're not buying something they already have. Some good choices include Stephen King's On Writing, Bird by Bird (Anne Lamott), and the quintessential Strunk & White Elements of Style.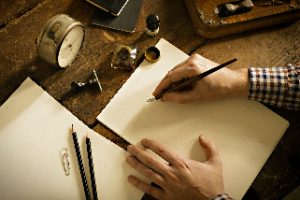 What's the best gift you've ever received as a writer?