Writing an action scene isn't as easy as it sounds sometimes. Take the fight scene, for example.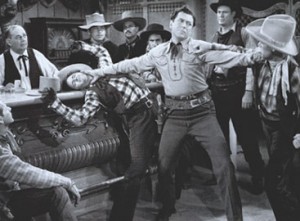 It's not enough to write "He punched the man in the face." Your readers need to know specifics if they're going to imagine the scene properly.
Here are some things you might want to keep in mind when writing those scenes:
What type of punches are thrown?
What types of holds are used?
What types of throws are used?
What type of weapons are used?
What type of ammunition is used in the weapons?
What does it feel like to throw a punch?
What does it feel like to take one?
What does it feel like to wrestle?
What does it feel like to fire a weapon?
What are the emotions your characters would feel during the fight?
What are the sounds they might hear?
What scents might be present during a fight?
This is also the time you want to do your research. Trust me, while some of your readers won't know that a Glock pistol doesn't have a safety catch, there are plenty of gun enthusiasts who will – and they'll be turned off by your lack of research if you give your character a Glock with a safety catch. Find out all about boxing or whatever martial arts your character may know. Learn the names of some of the wrestling moves your character might use. Look up that firearm and learn its capabilities. If you've never been in a fight, consider going to a boxing match or martial arts tournament so you can see the nitty-gritty of what's going on.