As the year draws to a close, writers everywhere dream up something new to write: their list of resolutions.
Here are my top 5 resolutions for writers:
Read – both for pleasure and for research. See how the experts do it and lose yourself in someone else's universe.
Write – even if you don't feel inspired. Just plant your butt in that chair and get to work. Make the time to write every day.
Rewrite – trust me, that first draft isn't the perfect gem you think it is. The second one's probably not that much better. Keep polishing until you've got something to be proud of.
Jump – take the plunge and submit that project. Get an agent. Try for a publishing house.
Save – for Pete's sake, back up your computer! Make it a habit to do this at least once a week.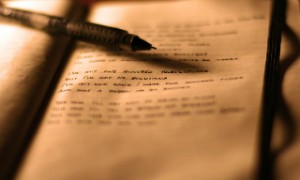 Author J.A. Konrath has the following to add to your list:
Newbie Writer Resolutions
I will start/finish the damn book
I will always have at least three stories on submission, while working on a fourth
I will attend at least one writer's conference, and introduce myself to agents, editors, and other writers
I will subscribe to the magazines I submit to
I will join a critique group. If one doesn't exist, I will start one at the local bookstore or library
I will finish every story I start
I will listen to criticism
I will create/update my website
I will master the query process and search for an agent
I'll quit procrastinating in the form of research, outlines, synopses, taking classes, reading how-to books, talking about writing, and actually write something
I will refuse to get discouraged, because I know JA Konrath wrote 9 novels, received almost 500 rejections, and penned over 1 million words before he sold a thing–and I'm a lot more talented than that guy
Professional Writer Resolutions
I will keep my website updated
I will keep up with my blog and social networks
I will schedule bookstore signings, and while at the bookstore I'll meet and greet the customers rather than sit dejected in the corner
I will send out a newsletter, emphasizing what I have to offer rather than what I have for sale, and I won't send out more than four a year
I will learn to speak in public, even if I think I already know how
I will make selling my books my responsibility, not my publisher's
I will stay in touch with my fans
I will contact local libraries, and tell them I'm available for speaking engagements
I will attend as many writing conferences as I can afford
I will spend a large portion of my advance on self-promotion
I will help out other writers
I will not get jealous, will never compare myself to my peers, and will cleanse my soul of envy
I will be accessible, amiable, and enthusiastic
I will do one thing every day to self-promote  I will always remember where I came from